The deal, should it be confirmed, would net the outfielder $36 million a year and be the most expensive contract in Major League Baseball (MLB) history, as well as the biggest in sports. Follow @cnnsport It would trump the $330 million 13-year deal the Philadelphia Phillies and Bryce Harper agreed last month and boxer Canelo Alvarez's $365 million 11-fight arrangement with sports broadcaster DAZN. Trout, 27, is a two time American League MVP, six-time winner of the silver slugger award and has hit 240 home runs in 1,065 games.Yet he tends to shy away from the limelight and has spent his entire career at the Angels after being drafted in 2009. His current contract was due to expire in 2020.
Alvzrez, Mayweather, Messi — Trout
Although Trout's prospective contract would be the biggest in terms of total value, it would likely fall short of the amount Alvarez looks set to earn in the same period.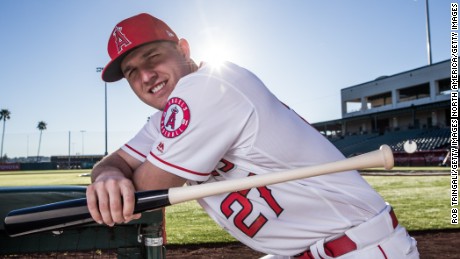 The Mexican has fought twice a year since 2016, meaning his DAZN contract could be up in under six years. That would leave him free to agree another lucrative deal or earn what would in all probability be substantial purses on a fight by fight basis.Floyd Mayweather reportedly earned $300 million for his fight with Conor McGregor in 2017. Soccer star Lionel Messi, meanwhile, earns $80 million-per-year on his a four-year contract that is due to end in 2021, according to Forbes.
Angels has struggled to make a mark
Trout has consistently had one of the highest Wins Above Replacement (WAR) — a measurement that estimates the total number of extra wins a team gains with an individual player in the team as opposed a replacement-level player in the same position — in the MLB over the course of his career.The deal — yet to be confirmed by the player or his team — was first reported by ESPN on Tuesday, which wrote "no player in history has put up more wins above replacement through his age-26 season than Trout's 64.3." Visit CNN.com/sport for more news, features and videosDespite Trout's consistently outstanding form, the Angels have struggled to make a mark in the MLB in recent years having only qualified for the playoffs once since 2011.The 2019 MLB season is due to begin on Wednesday.